Chuba Hubbard Scouting Report


High School


Chuba attended Bev Facey Community High School in Alberta, Canada. During his time there he rushed for 6,880 yards with 82 touchdowns. He missed some time during his senior season due to injury and only played in 14 games. Chuba also excelled in track: he competed in the 2015 IAAF World Youth Championship and was a 3-time national champion in the 100 meter dash. Chuba was a 4-star recruit and had offers from Alabama, Georgia, Oklahoma, and plenty more schools before committing to Oklahoma State.
College
Hubbard was redshirted in 2017 and got his first starting job in 2018, when Justice Hill was injured. Chuba only played 6 games, but he capitalized on this opportunity and averaged 106 yards per game and 5 yards per carry. He also helped lead the Cowboys in the Liberty Bowl with 18 carries for 145 yards, 3 catches for 37 yards, and a touchdown.
Hubbard's sophomore season was special. He finished second in Cowboys history to Barry Sanders with 2,094 rushing yards, as well as with All-American honors and Big 12 Offensive Player of the Year. His most notable game was against Kansas State where he rushed for 296 yards.
Chuba started his junior season this year and as of this writing has played two games.
First Impression
The first thing you will notice about Chuba is his blazing speed. He is such an explosive player and routinely had big plays at Oklahoma State. During his sophomore season he had 27 plays with 40+ yards rushing. He's got great vision and patience at the line, and his acceleration to explode through an opening and hit the second level is remarkable. However, he could improve when it comes to pass catching and blocking. He does make an effort and will hopefully improve in the future, but he probably wouldn't be considered a well-rounded running back.
Overall Grade and Film Breakdown


(Note: all scores/ratings are based on personal opinion.)


Strengths
Chuba's most notable strength is his speed, but this isn't surprising considering he's a former high school track star. His acceleration is incredible, and if he hits the hole there is a good chance he will be at the next level in the blink of an eye. His elusiveness and agility are above average as well, and he tries to avoid big collisions and protects his body with a nice repertoire of spins and jukes. Hubbard displays great vision and patience at the line waiting for holes to open or blocks to be set up. He also has fantastic ball security and always carries the ball on the outside hand away from defenders.
Weaknesses
Chuba was used in the passing game and was fairly effective, but he doesn't look like a natural pass catcher. He sometimes bobbles what should be easy catches and struggles to secure the ball, and he also tends to round off his routes.
His power and strength are what you would expect from a speedy back. He makes an effort but doesn't seem to move the pile in short yard situations and isn't the type of player to lower his shoulder and truck a defender. Chuba also seems to struggle when running in tight spaces. Some massive lanes have been created for him in college, so it will be interesting to see how his style of play will translate to the NFL where big lanes don't happen often.
Chuba is also a liability in pass protection. His technique is inconsistent and he will either miss his assignment or get destroyed by a defender. He shows effort and will hopefully improve in the future, but right now he's more of a hindrance than a help.
Film/Scores
Speed: Chuba receives a 93 speed score. Thus far in his college career he's had 27 plays of 40+ yards, and he routinely outruns defenders, even when they have the angle to tackle him.
In this play it's easy to see why Chuba got a 93 speed score. Hubbard accelerates through the hole, leaving a linebacker in the dust. His straight line speed is just ridiculous. The cornerback chasing him was flying and still didn't have the speed to catch Hubbard as he pulled away to the endzone. It's also worth noting that he displays some great vision during this play: he takes the handoff and cuts outside, then back in when he sees his opening.
Catching: Hubbard's 72 catching score was due to his hands. He was effective when used in the passing game, hauling in 45 catches for 427 yards and 2 touchdowns, but he's not a confident pass catcher. This is something he can work on moving forward. He also tends to fight with the ball when trying to secure it.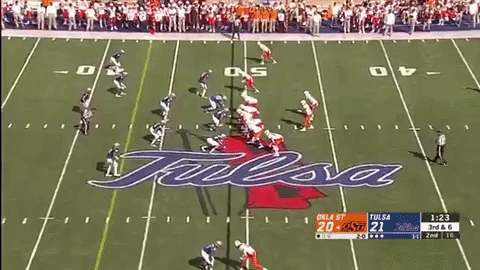 Chuba may be effective in the passing game but this play shows a reason why he received a 72 catching grade. This wasn't a poorly-thrown ball and Chuba wasn't blanketed in coverage, but he still couldn't make the catch. He doesn't seem too confident in his hands as he tries to control the ball and trap the ball with his body. The ball hits him right in the chest and bounces out for an incompletion on an important 3rd down.
Elusiveness/Balance: Hubbard was given an 84 elusiveness score paired with an 88 balance score. He has the ability to put a move on a defender and make them miss. He avoids contact and would rather speed past defenders. He also shows some great balance in between tackles and after first contact.
In this run we see a combination of Chuba's elusiveness and balance after contact. Hubbard cut to the outside and accelerated for about 8 yards before putting a move on a defender. Chuba did a great job planting his right foot and selling the fake to the inside as he cut left. You can see why he gets the 88 balance score, as he does a great job maintaining balance after avoiding the tackle and exploding for the big play.
Strength: Chuba received an 80 for a strength score. He isn't a weak player, but he also isn't going to bulldoze his way into linebackers or move piles to fight for extra yards.
In this play, Hubbard got about 7 yards before getting leveled by a linebacker, and it almost looks like Chuba embraced the hit. He could have lowered his shoulder and attempted to fight for extra yards, but that's just not his style of play.
Fantasy Outlook
Chuba has the ability to be a viable NFL starter. He has shown that he can carry a full workload, and he is a threat to score any time he touches the ball. Chuba should be a 2nd or 3rd round pick come NFL draft time and many teams could benefit from his skill set. He would be particularly great in a zone run scheme.
Fantasy-wise, Hubbard will be locked in as a 1st-round pick in dynasty drafts and a later-round pick in redraft leagues. Depending on where he is drafted, he should contribute to fantasy owners during his rookie season. He is currently listed as my RB3 behind Najee Harris and Travis Etienne.