Jaylen Waddle Scouting Profile
High School
Waddle was a four-star recruit out of Episcopal High School in Bellaire, Texas. Waddle was the #5 ranked WR nationally, #3 in the state of Texas. He had offers from twenty five schools across the country, having committed to Alabama on national signing day in February, 2018 and then enrolled in June. Waddle was a force on the field and broke out in a big way his Junior year with 48 receptions, 1,382 yards, and 26 TDs.
College
Waddle arrived in Tuscaloosa the summer of 2018 and made his presence felt immediately. Playing behind two future 1st round picks(Jerry Jeudy & Henry Ruggs), Waddle had 7 touchdowns as a true freshman and was tabbed as a Freshman All-American along with being nominated for the SEC Freshman of the Year. As a sophomore in 2019, Waddle earned 1st team All-America honors by the FWAA, Sporting News, and Pro Football Focus. He also earned second team All-America honors by the Associated Press and Walter Camp. Waddle was selected as the SEC Special Teams Player of the Year and first team selection at return specialist by the leagues coaches. In 2020, Waddle dominated the SEC through the first five games, finishing with 120 yards or more in each game before succumbing to a fractured ankle that cut his season short. Waddle is expected to make a full recovery and enter the 2021 NFL Draft next April.
First Impression
Waddle is an electric playmaker - a threat to score any time he touches the ball. It was evident on his tape; just get the ball in his hands, and let him do the rest. He can change the course of a game in an instant, whether it is returning kicks or as a receiver. Waddle is more than just a speed artist, too. He attacks the football and runs great routes. He understands route deception and setting up defenders to get into his breaks. What makes him standout, is his ability to create separation through his speed - a god-given gift that only few have. But he also has good footwork and agility along the sideline, understanding the wherewithal to do this at the next level.
The only knock on Waddle will be his size (5'10, 183). He's not going to body up defenders, nor is he your prototypical X receiver. He can play in space and thrives off being a playmaker. Also, sometimes I found him catching the ball into his body rather than with his hands all the time. It didn't happen a lot, but showed up here and there. Some work on the jugs machine before and after practice will help with that. But nonetheless, he is elite and has the looks of being a special player.
Film and Graphic Score
Strengths
Waddle has just about everything you want to see in a receiver. Speed, route running, catching, ball skills - Waddle has it all. As I mentioned, he's more than just a speed artist. He can change the course of a game at any moment and is a big play waiting to happen. He's the kind of player you build your franchise around. Waddle is an elite and exciting talent to watch.
Weaknesses
There aren't a whole lot of weaknesses you'll find on tape of Waddle, but the one thing that is noticeable is his size/small frame. He's not a big-bodied receiver that will win jump-balls and contested catches regularly. No, he's a playmaker that you can use in a number of ways, and scheme to get him in space to run. That's what he does best.
Film
Speed: The first thing that stands out on tape for Waddle is his speed. He is an absolute blazer and runs away from defenders with ease. It is a god-given gift that will translate to the next level. Waddle's score of 98 for speed might be too low.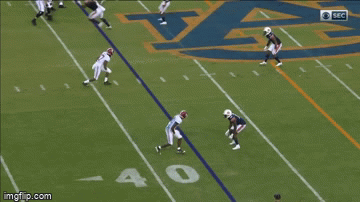 He shows off his speed here in the clip above. A playmaker in space is a gamebreaker for the opposing defense. He sets up his block very well and gets to the sideline and is off to the races for a touchdown.
Route Running: Waddle does a really nice job of setting up his breaks and manipulating defenders with his head and body. And not only that he has the natural ability to create separation with his speed. His breaks are sharp and understands stem technique at the top of his routes to set up his break and separate. Waddle received a 95 route running score.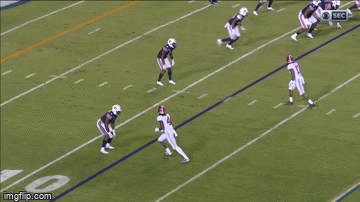 This is a really nice route against Auburn last year. It's a flag route to the left sideline in man coverage. Watch closely as Waddle attacks the left shoulder of the defender and uses that head fake to break outside to his left and head to the flag. At the top of his route, he creates that little bit of separation that allows him to see the ball, catch, and toe drag for the score.
Catching: Waddle has soft hands and seems to catch everything. Sometimes, you may see body catching, but he makes an effort to catch with his hands, or catch with his hands and bring in to his body. As I mentioned, he's not an X receiver, but he's not afraid to make a play and go up to catch the football. Waddle was given a 95 score for his catching.
This clip above shows Waddle's catching ability and his desire to make a play. With his talent and skillset, he will be an immediate contributor; and eventually command targets wherever he lands next season.
Ball Skills: Waddle's natural athleticism allows him the skill to make contested catches and adjust to the ball in the air. He attacks the football at its highest point and plays bigger than his size. He makes it fun to watch him play. Waddle received a 94 score ball skills score.
The clip above is my favorite play when breaking down Waddle. First off, notice the route - it's a go route, and Waddle beats his man immediately when he gains inside leverage and has about three steps on the defender. Then just watch the adjustment to the ball in the air and body control. And as I mentioned, catching the ball at its highest point. Unbelievable.
Fantasy Projection
Jamarr Chase is the clear-cut rookie WR1 of this class, but Waddle is right there - as not only one of the top rookie WRs, but one of the top rookies in 2021. Waddle has the potential for stud status and a "set and forget" player. He will be an immediate contributor wherever he lands in 2021 and will get every opportunity to show what he can do. I can see him having a Justin Jefferson-like impact, if he falls to the right situation where he can step in and start on day one.
He's a lock for an early to mid 1st rookie pick and his ADP will skyrocket from year one to year two. Do not hesitate to draft this elite playmaker. He's going to be good for a long time.